Jan - 06 - 2014
Launching of "LuLu Q & Friends"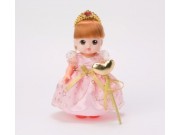 Congratulations !
Our first doll series "LuLu Q & Friends" is offically launched to the market today.
"LuLu Q & Friends" series is created for children aged from 3 to 10. It is specially designed for the kids' early stage of growth, with fun & educational purpose.
This series comes with 3 characters: LuLu Q and Mia are the girl dolls while Kenichi is the boy doll. They like to wear beautiful dresses. They enjoy jogging with their pets, doggie & rabbits, in their casual dresses too. During summer, swimming is a wonderful sport for them to escape from the heat.
Collect the "LuLu Q & Friends" series to enjoy the fun and learning.
Don't miss our food balancing game & memory card game. They are great for parent-kid time.